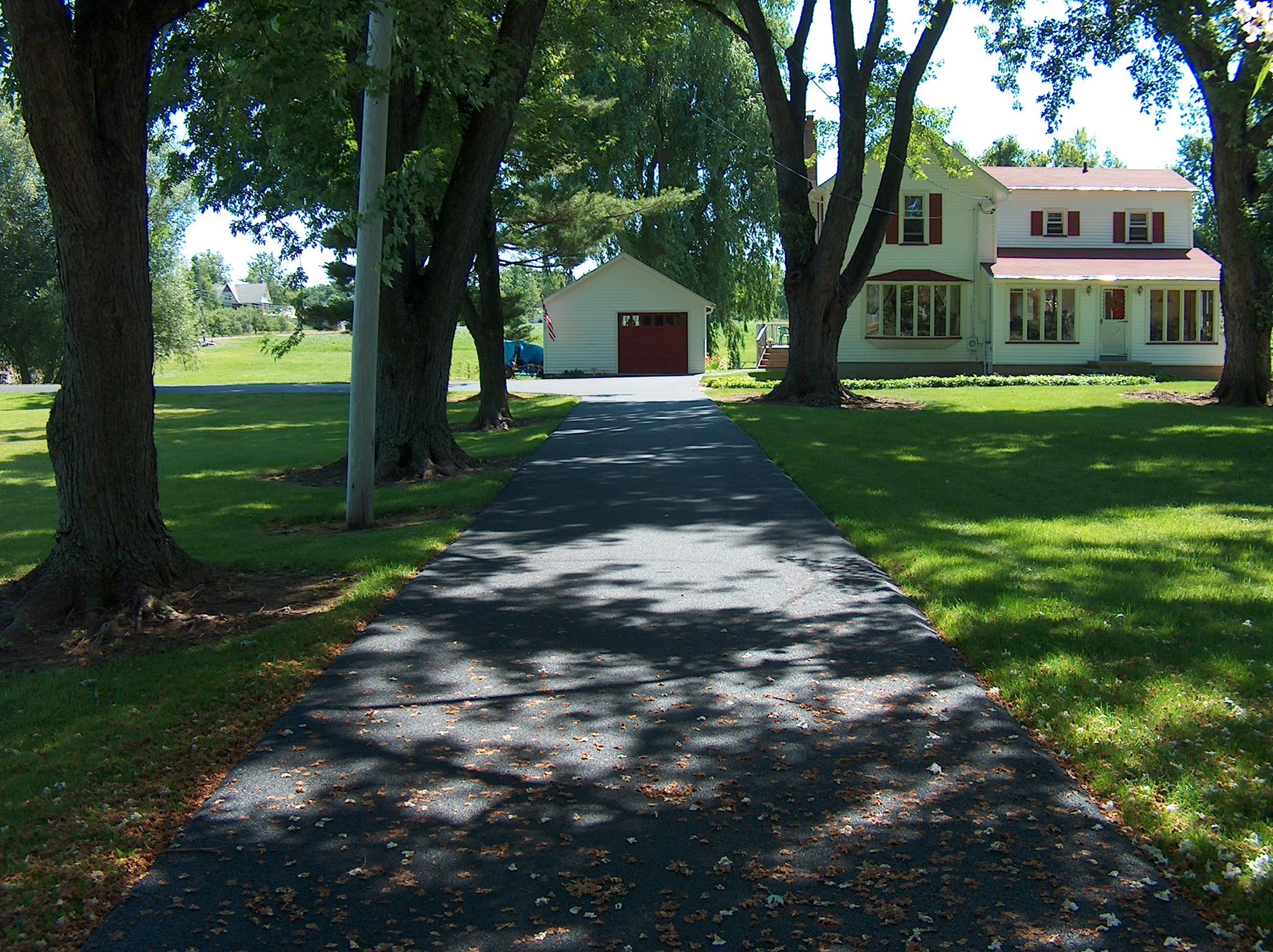 Your driveway represents the welcome you want to convey to visitors, passersby or prospective buyers in the event of a sale. With asphalt paving, you have the opportunity to boost curb appeal, increase the property value, and make the best impression. Typically, asphalt is less expensive than concrete or other materials.
Advantages of Asphalt Versus Concrete
Asphalt has certain advantages over other surfacing materials. Composed of a mixture of aggregate and petroleum-based liquid cement, asphalt is mixed and placed while it is at least 300 degrees F. With asphalt, it must be applied quickly depending upon the thickness, the outdoor temperature and the season.
Favorable characteristics of asphalt include:
Fast set – hardens by cooling rather than curing

Strength and durability – less susceptible to salting in winter and able to withstand fluctuations in temperature

Flexibility – has flex and give to withstand settling without cracking or breaking

Smooth and continuous surfacing – due to flexibility, needs no spacers to allow for expansion or contraction

Easily resurfaced – asphalt is easily resurfaced as a DIY project using driveway sealant. You cannot achieve this same convenient resurfacing with concrete.

Aesthetics – special asphalt formulations may be colored and imprinted to replicate pavers
Hiring Commercial Paving Companies
Your due diligence is best performed by vetting commercial paving companies before you settle on a contractor. Verify their qualifications by checking references on such criteria as quality of work, timely performance, attention to detail and completion of work. Request evidence of adequate liability coverage and trade association.
A paving company will expect you to obtain competing bids and to get references. Once you have decided on a contractor, expect to see the particulars noted in writing including:
Responsibility for grading work

Accuracy

Compacting of sub-grade and base

Measuring compacted thickness

Pavement slope and smoothness

Payment schedule

Guarantee of finished work
Other Areas Considerations for Paving
Some details should remain front of mind as the work on your asphalt paving is done. Due to the surface height, you may need to check your gates for clearance and have foreknowledge of who is responsible for re-hanging as needed. Be prepared to raise any water valves or sewer lines to meet the surrounding asphalt. Ensure surface drainage is addressed properly to prevent ponding or standing water issues on the finished surface.
With the numerous areas of concern such as air and surface temperature, time available for compaction and lift thickness, you are better off initiating contact with a reputable paving company yourself. The unscrupulous fly-by-night visitors who show up unannounced do not have your best interests in mind. Trust your evaluation based upon the proof that can be provided for you to check up on. Too much is contingent upon doing the job right the first time and having the ability to contact the contractor in the event of recourse.