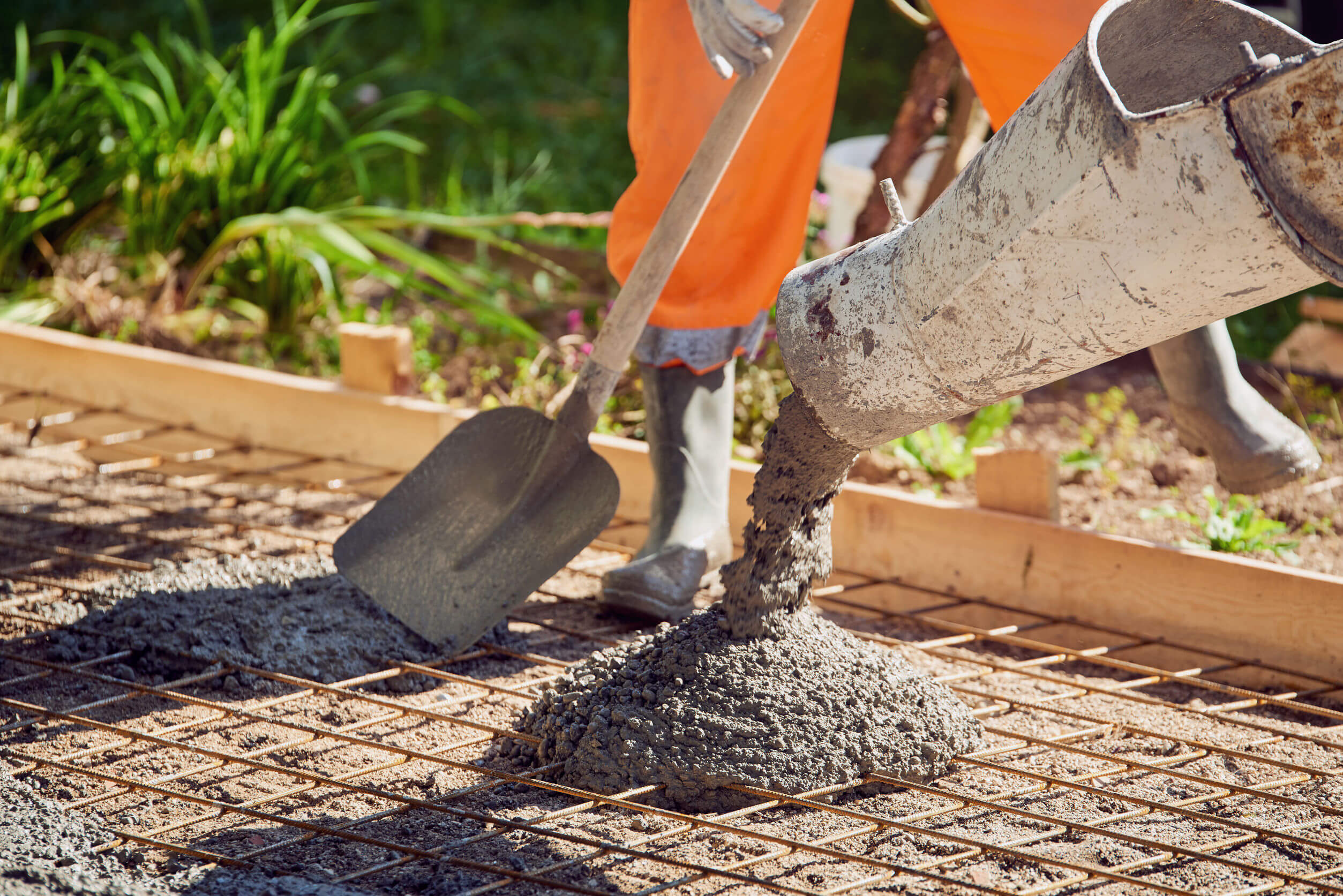 Difference Between Paver Bricks and Stamped Concrete
Pavers are interlocking blocks, bricks, or stones, which are laid down individually over a large area, while stamped concrete is poured out in a single slab which then has a design stamped into it. While both paving materials have advantages and disadvantages, stamped concrete is the most cost-effective of the two options. Learn why stamped concrete is more economical than paver blocks. 
Initial Cost and Affordability
Whenever making a large purchase, the final decision often hinges on the cost. If you get bids for paver bricks and stamped concrete surfaces, expect the cost difference to be significant. Several factors contribute to these. Paver brick installation is labor-intensive.
Proper site preparation starts with excavation and a concrete border. Next come layers of fabric, Class II Road Base and sand. Finally, workers install the paver bricks on the sand.
Stamped surfaces require somewhat less labor, excavation and bed preparation. Most of the effort comes from stamping and giving it the expected look.  Once installation expenses and material prices are factored in, the upfront cost of stamped concrete is about 10% to 15% less than that of pavers.
Generally speaking, stamped or textured concrete has a lower initial cost than pavers; you can expect to pay anywhere between $8 and $18 per square foot depending on the complexity of the job. Brick pavers, on the other hand, can cost between $12 and $22 per square foot, while natural stone pavers can cost as much as $10 to $30, depending on the type of stone.
Longevity and Durability
How your surface looks depends on its installation and subsequent care. Broken or missing sections, puddles, uneven surfaces and weeds detract from its beauty.
Paver bricks are very durable, though a lot of that depends on site preparation. Weeds between the pavers detract from the look unless you think it adds character.
Stamped surfaces are also durable but can crack in time. However, control joints can invite a section to fracture someplace out of sight.
As a general rule, pavers last longer than concrete, although there are steps that can be taken to make concrete last longer. Most stamped concrete has had special sealants applied that protect it from weather damage. 
Additionally, carefully placed saw cut control joints can prevent the concrete from cracking due to thermal expansion and contraction, while the right texture or pattern can help conceal minor imperfections. Generally, stamped concrete can last up to 25 years, while pavers have a lifespan of about 30 years. Depending on the project, this gap may be offset by the lower initial cost of concrete.
Aesthetics
Property owners often take the aesthetics of a certain material into account when considering whether it's worth the cost. 
When you are out, take a close look at all the paver and natural stone surfaces you encounter. You may get a surprise. You will discover that many of those are stamped pavement rather than separate, assembled bricks. Pavers no longer corner the market on beauty.
Concrete pavers can imitate a wide variety of stone types, from slate flagstones to limestone cobbles. However, there are some cases where it comes down to a matter of personal taste. You can create any design you wish with the available shapes and colors. 
Stamped surfaces can create similar color and pattern effects as paver bricks. Also, they can imitate the randomness of shape and color that one gets from natural stone. Cobblestone and flagstone patterns are two common choices.
Stamped concrete might not be able to provide exactly the same feel as real brick, while certain geometric patterns or modern designs are not possible with traditional pavers.
It's Time to Have the Pavement You Always Wanted
All County Construction is ready to help. We can exceed all your residential and commercial pavement requirements. Contact us today for a free estimate using our online contact form.
If you're having a walkway, driveway, patio, or other area paved, then you'll want to consider all of your options carefully. Two of the most common materials are stamped concrete and paver blocks, each of which has their own pros and cons.
Contact Us
Here at All County Construction, we have the expertise and experience needed to make your dream project a reality. Contact us today to receive a free stamped concrete estimate.