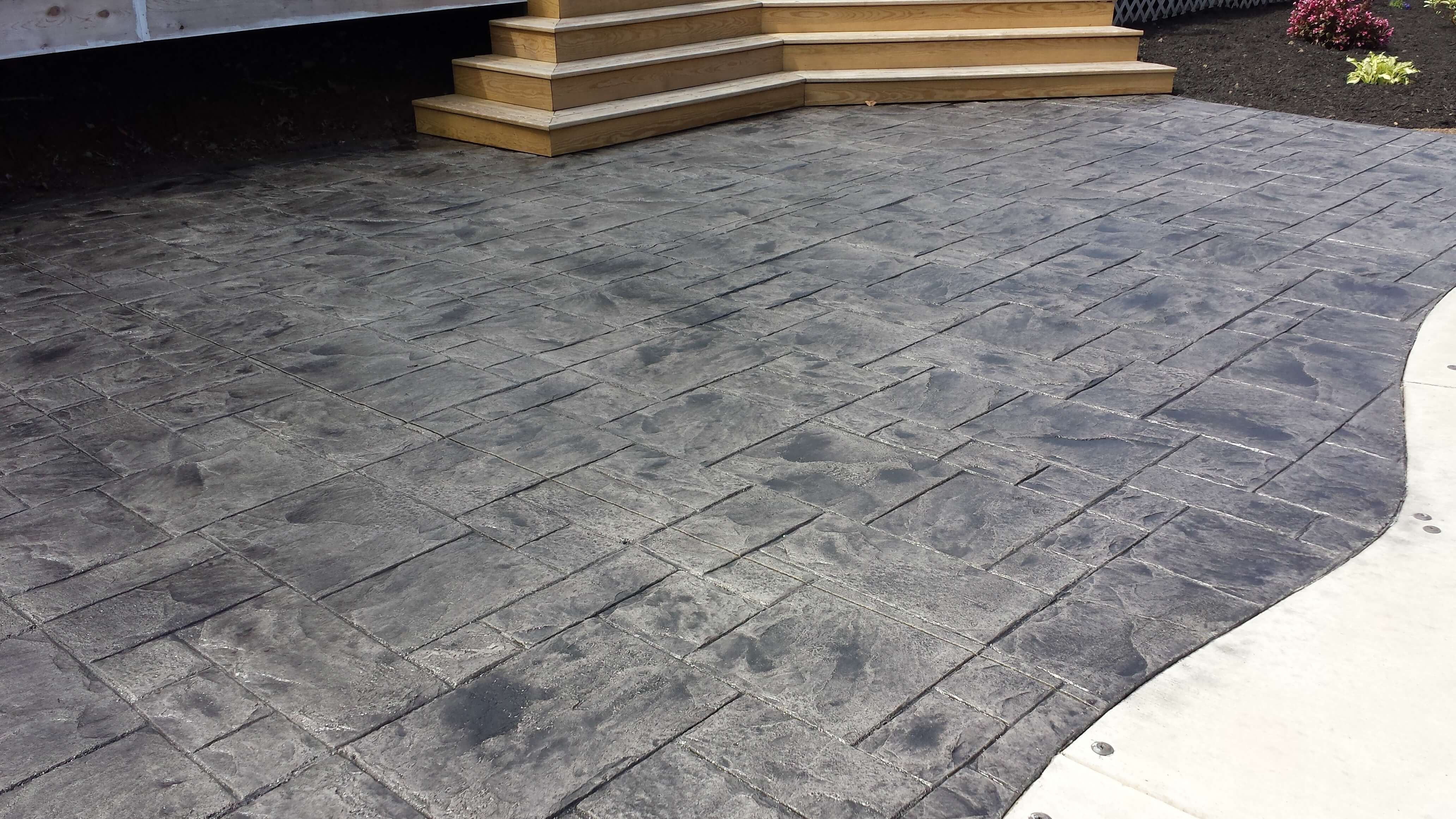 Updated September, 2019
If you have ever wanted to redo your patio or any other outdoor area with brick, stone, or tile, you may want to consider using stamped concrete instead.
Although the previously mentioned materials can be beautiful and eye-catching, they can be expensive as well. Textured, or stamped concrete as it is also known, can be used to give the same gorgeous and professional appearance at a much lower price.
You will have the option of selecting from a wide variety of hues and shades, which can be adjusted to create the color of your choosing.
Creating a Unique Stamped Concrete Pattern
Stamped concrete can give the illusion of brick, stone, or tile, and it can be used for a massive range of outdoor projects. It is commonly used by home and business owners to create visually appealing sidewalks, driveways, patios, and decks, and the fact that customers have the option to create their ideal color makes stamped concrete perfect for virtually any setting. Customers will have the option to choose from the following colors:
Random Flagstone

London Cobble

Grand Ashlar Slate
If you do not see the pattern you are looking for, just ask us for additional pattern options and we'd be happy to show you more.
Stamped Concrete vs. Natural Stone and Paver Brick
Stamped concrete is the best choice for many projects and it offers a variety of benefits.
Unlike natural stones or paver bricks, weeds will not grow through cracks and there is no need to worry about shifting during the winter months. In addition, decorative stamped concrete offers:
Resistance to impact

More affordability

Less maintenance

Authentic natural stone and brick appearance
Stamped concrete also ages better and can stand the test of time longer than brick and natural stone.
However, stamped concrete and paver bricks have the same price, so you can choose which look you like better. Our concrete stamps, made from polyurethane, can make your poured concrete look like bricks, cobblestones, or flagstones. We can provide other textures upon request for an additional charge.
Stamped Concrete Installation and Seasonal Considerations
Creating your perfect stamped concrete project starts with selecting the perfect color and type.
This process usually takes about two to three days to complete, and afterward, protective sealants will be added to the concrete. Since stamped concrete is capable of withstanding even the harshest weather conditions, homeowners preparing for spring and summer should start thinking about the design and installation process in the fall or winter before the project.
During the summer, we use a retarder to keep the surface of the concrete soft despite high temperatures. We want to postpone the setting time till after we've added the stamped pattern. The softer the concrete, the deeper and more definitely defined the pattern will be.
During the fall, we mix an accelerator into the concrete to speed up the setting time. To prevent the concrete from crumbling, we won't pour during freezing temperatures, especially below 20 degrees Fahrenheit. If the temperature reaches high 30s, we'll use insulated warming blankets to encourage the concrete to set correctly.
Two Types of Concrete Used in Stamped Concrete
We provide interior mix for indoor concrete projects such as basement floors and garages. Interior mix, which lacks air pockets, has a smooth, dense texture. Exterior mix, which has air pumped through it, is used for outdoor projects like driveways. The air pockets allow water to expand without damaging the concrete construction.
Recycled Concrete
When we accept concrete renovation projects, we first break up the damaged concrete slabs to prepare the site for construction. We then remove the blocks of used concrete so that they can be crushed and recycled for the next project. Recycled concrete works well as the aggregate for replacing virgin aggregate. We try to get as much use out of the concrete as economically possible.
Stamped Concrete Care
Reseal Every 2-5 Years
Stamped concrete needs to be resealed every 2-5 years, depending on the traffic. However, unlike paver bricks, you won't have moss or grass growing between each rock, since it's composed completely of a single layer of concrete. In addition, your patio won't sink or develop uneven dips and slants.
Do Not Stack On Top of Stamped Concrete
Stamped concrete is permanent, but it's not stackable. If you try to layer concrete, the top layer will mimic every crack and flaw that the bottom layer has.
Common Damages to Stamped Concrete
Puddling
Over time, some areas of the concrete may form a depression. Water can collect in this dip in what professionals refer to as a "bird bath."
This most often happens during the installation process when contractors step on the concrete before it hardens. The experts at All County know what precautions to take during the installation to ensure no puddling develops.
Shallow Impressions
This issue is specific to stamped concrete because it is decorative in nature. Ideally, you want deep impressions within the concrete that allow you to see each individual stone. However, due to a variety of reasons, the concrete can become too hard too fast, which does not allow the embedding to show.
Workers may be able to correct this problem simply by creating the grout lines by hand, but at All County, we have a preventive approach to this issue.
Ridges
When two stamp mats come together, some of the soft concrete can come between them. This is a normal process, and workers will be able to smooth everything out at the end. However, in the event the workers fail to smooth out the area, you will be left with a ridge between the two mats. It is vital to correct this problem promptly because homeowners can be seriously hurt if they step on the ridge barefoot.
Cracks
This problem happens with all kinds of concrete. At one point or another, your concrete can crack even if the installation went perfectly.
Ideally, the team you hire will incorporate control joints into the concrete. Since it is an inevitability that the concrete will crack over time, the workers will direct it to crack in a space that is not visible. For stamped concrete, the team will use a power saw to cut between the spaces. This allows the concrete to crack beneath the surface, ensuring it looks better for longer. Some people worry about water getting into the cracks, but this problem does not usually cause any major damages.
Prevent All This With the Right Team
The professionals at All County Construction are proficient at installing stamped concrete and are skilled with handling random flagstone, grand ashlar slate, and London cobble. With our team, you can be confident that you will not have to worry about the most common types of damage occurring with your new concrete any time soon. Contact us today to learn more.
We Understand the Value of Having a Beautiful Outdoor Living Space
We know the value of having a beautiful outdoor living space. That's why we strive to provide our customers with access to high-quality stamped concrete products that can stand the test of time and make any yard or patio grab your attention. Contact us today to learn more about stamped concrete and all your design options!
Stamped concrete is a wonderful way to brighten any patio, walkway, or driveway, but many factors can cause imperfections in your stamped concrete. Usually, the best way to repair a stamped concrete imperfection is to prevent it in the first place through expert installation, but natural wear and tear can distort even the best-laid concrete.
Stay informed about all aspects of your stamped concrete, especially if you live in Rochester, NY.
Stamped concrete gives you a plethora of options, such as stone patterns, colors, textures, and depth. Many residential and commercial property owners appreciate its aesthetic appeal. We at All Country Construction want to keep you informed about stamped concrete so you'll know how best to maintain your surface.
All County Construction provides concrete services for the tri-county area, including Ontario, Williamson, Webster, and Marion. We accept a wide range of projects such as sidewalks, catch basins/gutters, retaining walls, and patios. Including various textures and colors, we provide three different stamped concrete patterns: London Cobble, Grand Ashlar Slate, and Random Flagstone.