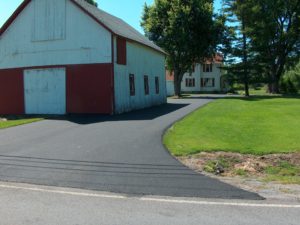 We know that first impressions matter, and the asphalt on your commercial property is the first impression your clients or potential clients will receive of your business when they arrive. It is imperative that it is in good shape, allowing your business to be associated with quality, safety, and attention to detail.
What do you do to maintain the pavement of your parking lot? Pavement will deteriorate a little each year, but you can significantly slow the degradation process by following these simple maintenance suggestions.
4 Reasons to Repair Your Commercial Parking Lot Now
As a commercial property owner, you have numerous responsibilities, and upkeep of the building and surrounding land is one of the most important. Parking areas are crucial to daily operations, as they provide access to your facility for tenants and customers. If your lot has fallen into disrepair, here are four reasons why you should call a commercial paving contractor as soon as possible.
Attract New Tenants
Office buildings and retail complexes can be great money makers, but you must have tenants in your units to keep the revenue flowing. If you're trying to woo new businesses into some of your empty suites, you need to put your best foot forward to make a great first impression. When potential renters see a crumbling parking lot, it can raise questions about your attentiveness as a property owner.
Satisfy Your Existing Tenants
In the competitive world of commercial real estate, it's common for one property to lure tenants away from another, which is why it's important to keep your existing renters happy. A dilapidated parking lot makes it harder for customers to patronize a business, and that could inspire some of your occupants to seek greener pastures. By working with a commercial asphalt paving company, you can make ingress and egress a breeze.
Increase the Value of Your Property
Commercial properties represent a significant investment of time and resources, and you hope to get a return on those outlays when it's time to sell. If your parking lot requires significant work, it could limit the number of interested potential buyers. Before you put the land on the market, it's in your best interest to be proactive in making repairs.
Decrease Insurance Liabilities
Parking lot upkeep goes beyond convenience, as you're responsible for the things that happen on your property. While you carry an insurance policy to protect yourself against customer and tenant mishaps, you could face increased premiums if incidents keep occurring. Potholes, crumbling pavement and other imperfections in the asphalt can create tripping hazards and even cause drivers to swerve into pedestrians. By keeping your facilities in top condition, you'll be doing your part to limit liabilities.
Sealcoat Your Parking Lot
Sealcoat, which can be placed on your asphalt 12 months after the initial installation, should be redone every two to four years to keep the pavement in tip-top shape. Here are three important reasons why you should sealcoat your commercial asphalt as soon as possible.
 1.) Sealcoat Prevents Cracking
Blacktop paving that has not been privy to a sealant can face detriment from severe weather and seasonal changes, as well as regular wear and tear. While some damage is inevitable over time, a substantial breakdown can begin within the first few years, leading to significant cracking, crumbling, and oxidizing of unprotected areas. This can result in your commercial asphalt being closed off to visitors until repairs are made, due to the safety concerns that accompany broken or uneven pavement.
 2.) Sealcoat Extends Its Life
Climate and use can shorten the lifespan of commercial asphalt, but with proper maintenance and preventive care, it can last much longer. By including parking lot sealing as part of your regular maintenance, you can extend the life span for years or even decades. This can save you from having to budget in expensive rehabilitation or a full replacement sooner than necessary.
 3.) Sealcoat Improves Appearance
Sealcoat can greatly improve your curb appeal. It allows rain to easily wash away dirt, giving a cleaner, more streamlined look. It also helps increase the visibility of painted parking and loading lines, and allows your pavement to maintain a new appearance, offering a positive first, second, or tenth impression. Is there a chance you will be placing the property on the market anytime in the future? Is so, having blacktop paving that is topped with sealcoat can increase your property value and be a featured selling point.
War Against the Oxidation Process
So you just got your company's parking lot paved 2-5 years ago, but you're already seeing deterioration of the aggregate and asphalt. You can thank the air we breath for that; once your pavement is exposed to sunlight, heat, and oxygen, its molecular structure immediately seeks a thermodynamic stable state through bonding. As a result, your pavement loses its elasticity, becomes brittle, and soon cracks.
So What Can You Do About Oxidation?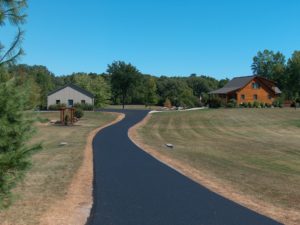 You can extend/maintain the life of your pavement by 75% when you follow a rigorous sealing schedule, which we talked about in our previous post. You'll actually end up saving money when you follow a strict sealing regime because you won't have to pay for hefty pavement repairs farther down the road (no pun intended).
Install a Great Drainage System
You don't want rainwater sitting on your pavement for long, loosening the aggregate bond and encouraging mold to grow between the cracks. You can install several drainage units that will eliminate that problem:
We install culvert pipes either beneath or adjacent to the pavement to regulate the flow of rainwater.
Work on the Pavement Site
During our excavation process, we level the land and create ditches to direct water away from your pavement.
Install Water Lines & a Pond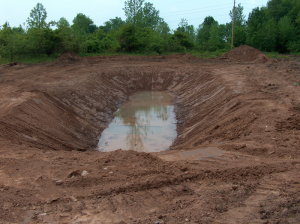 Adding a pond to your commercial property can not only help with drainage problems, but also increase the aesthetic appeal to your guests.
If you need any help finding a solution to your pavement problems, give us a call at 315-589-8661 and we'd be happy to offer suggestions and share our expertise.