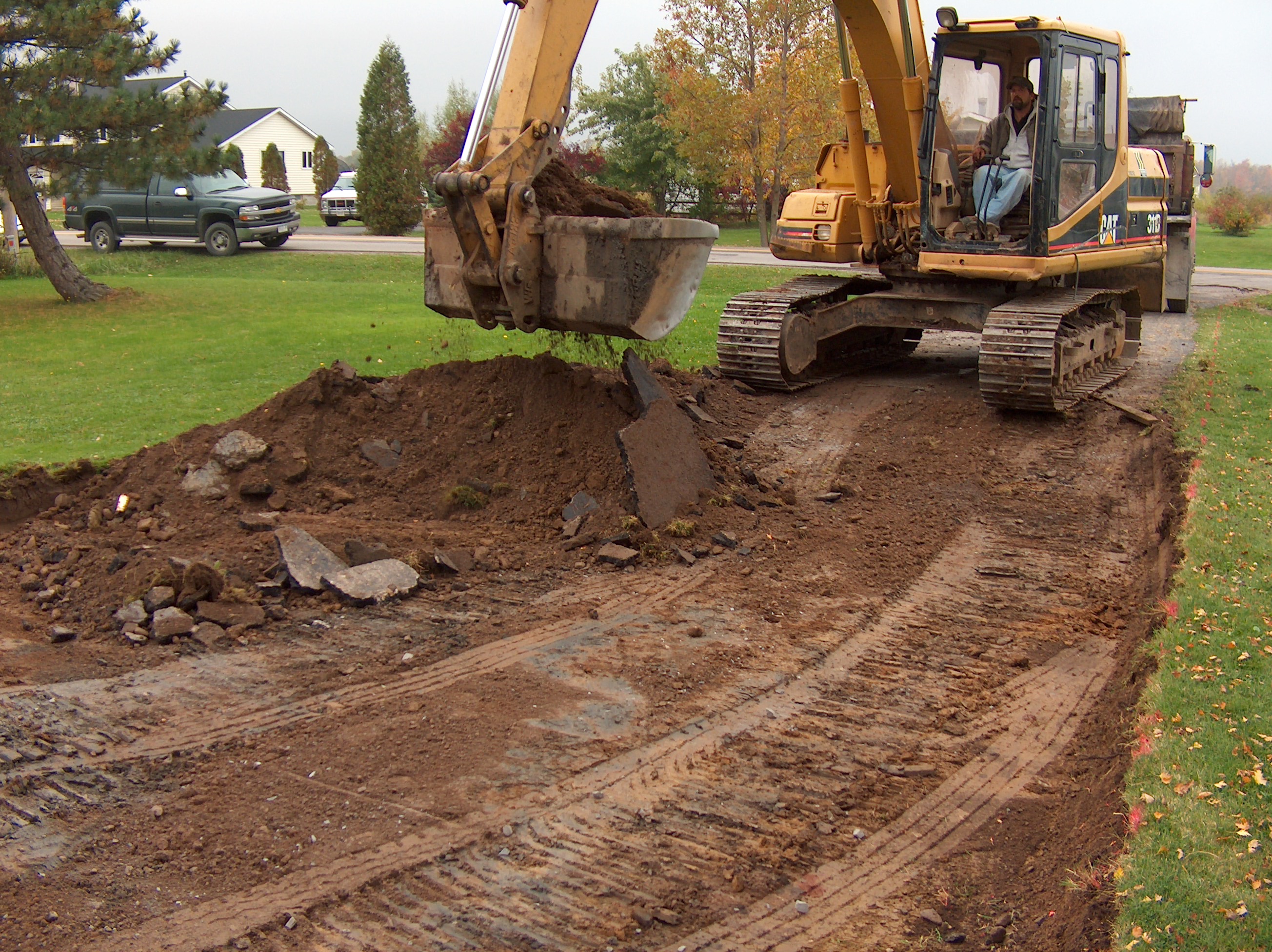 If you own or manage a commercial property, an experienced excavation contractor is vital for making the most of your business holdings. These specialists handle initial land clearing, digging, and excavation on your property to make it ready for new installations such as sidewalks, patios, and new pavement. What are some specific services these experts provide? Read on to find out.  
Proper Excavation is the Key to Successful Commercial Paving
Paving services for commercial projects are often selected based on price, but we believe you should consider the long-term value of getting the job done right the first time. Existing pavement may have structural issues because the site was never prepared properly, and it may benefit you to have it completely dug up and done again. Your paving company must take into account the subbase and subsoil conditions when paving, and proper drainage is critical to making your pavement last.
Improper grading may also make water flow in unwanted directions, damage vehicles by directing them into steep approach angles, and restrict visibility. If your parking lot is excessively uneven or steep, excavation and filling can make it more level. 
A freshly paved and striped parking lot improves the appearance of your business and maximizes your traffic flow and parking capabilities. Your visitors, clients, and employees are safer when the pavement is smooth. Stop lines and crosswalks that are clearly marked also contribute to safety and good traffic flow.
Residential Paving May Also Require Some Digging 
A residential paving job may be smaller in scale and lower in traffic, but that doesn't mean you can take it lightly. Heavy trucks will drive on the pavement from time to time, such as delivery vans and moving vans. Pavement should be rated for the maximum weight that you anticipate driving on the property. 
Weather and drainage also play as much of a role in damaging asphalt as the weight of traffic. Drainage on residential lots is sometimes inadequate even before paving is done. Creating channels for rainwater to move away from parking and driveways is necessary to avoid damage to buildings such as your home.
Excavation will ensure that rainwater is directed away from buildings on your lot. If you pave a pool deck, for example, drainage around your house is affected. Excavating a trench drain can save your house from severe water damage that can occur even with relatively minor rainfall. 
Commercial paving and residential paving increase the value, curb appeal, and usefulness of your property. Paying proper attention to the excavation needs of your project will ensure that you don't have drainage problems and the new pavement has a long life.
Excavation Contractors Do Important Clearing and Digging Work
These professionals help commercial landowners in many ways. They remove trees, for example, as well as shrubs and root systems, and that is just for a start. Here are key services that an excavation contractor provides:
Land Clearing

Site Work

Drainage Work

Septic Systems

Sewer Lines

Catch Basins

Culvert Pipes

Water Lines

Ponds
For commercial properties, these contractors often do a lot of paving along with patching and sealing pavement. Other frequent jobs include milling roads, clearing the site, and preparing for parking lots by opening up space and evening the ground surface.
Factors to Keep in Mind when Hiring an Excavation Contractor
Contractors who specialize in excavation perform many important tasks that help property owners. They prepare surfaces and areas so that your new projects, whether a driveway or a new building, have a proper foundation for being built right.
However, it is important to consider several factors before hiring an excavation contractor. First, think about the time of year. The middle of winter is not the best time to start a project that requires digging. In upstate New York, for example, the ground freezes and excavation work is not a viable option. Therefore, plan your construction schedules accordingly. Digging is best done in the spring after the ground thaws.
Also, if you are planning to have a new asphalt surface installed, you will need to keep all vehicular traffic off of it for three to seven days. The hotter the temperature is, the longer you need to keep the new surface clear of vehicles.
Finally, talk to the installing contractor about seal coating your new asphalt surfaces. Ideally, seal coat it one year after installation, then every two to four years after the first sealing.
Let Us Dig For You
Here at All County Construction, we understand that every excavating job is different. From clearing and leveling land for new driveways to digging foundations for new buildings, our experience has taught us one thing—attention to detail is the key to quality work that lasts for years to come. Contact us for a free estimate and to schedule work for the spring. 
If you're planning a commercial paving project, choosing a paving company with the right excavation expertise is essential. A residential paving project may also require excavating services, depending on the requirements. Adding pavement to your property will affect drainage, which may require digging new trench drains or ditches.