Paving Rochester, NY and the Surrounding Region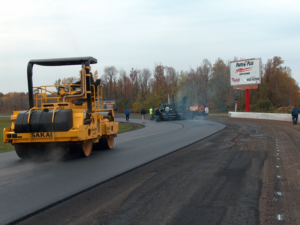 We work with municipalities and private property owners to improve the curb appeal and functionality of sites of all types with our asphalt pavement, concrete, and excavation services. From roadways to patchwork, we can handle any size of project. If you're not exactly sure what needs to be done, we can offer educated advice and recommendations based on the years we've spent in the road construction industry.
We provide:
Municipality Paving – for schools, town district parking lots, roadways, government-owned facilities, etc
Commercial Asphalt Paving – for privately-owned businesses, golf resorts, retail centers, and more
Residential Paving – such as driveways, blacktop, and pothole repair
The All County Construction Advantage
As one of the most reputable paving companies in the greater Rochester region, we strive to maintain high standards.
Some benefits of choosing All County Construction for your next paving project include:
Years of experience so you get the right solution for your needs and budget

Top-of-the-line equipment that gets the job done efficiently and correctly

Professional personnel who are both respectful and knowledgeable

A full suite of paving capabilities including asphalt paving, excavation, stamped concrete, milling, and more
Types of Paving Projects
We will work with you to find an affordable solution that fits your budget with a free quote.
New Paving – If you have a new paving project in mind, we clear the site, lay the base, and add the asphalt paving for a beautiful new blacktop.
Full Rehabilitation – Do you need to repave an existing site? Sometimes a paving site needs full rehabilitation – the existing pavement is so damaged that it has to be completely ripped out, removed, and replaced with fresh asphalt pavement. Although pavement rehabilitation is thorough and comprehensive, it's also expensive, time-consuming, and often causes significant traffic delays due to reducing lanes and redirecting traffic.
Patchwork or Modified Rehabilitation – If the budget doesn't allow for full rehabilitation and depending on the state of the existing pavement, we can offer patchwork as an affordable alternative. Many factors determine if patchwork is a viable option for your situation – such as quantity and frequency of traffic, location, and how much longer the existing pavement can last without a full re-do.  
Paving Maintenance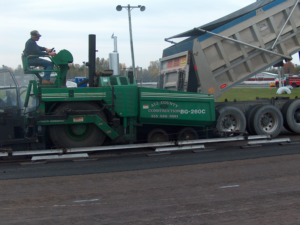 Do you need to improve curb appeal or functionality for your property? In addition to the initial project, we provide maintenance measures and assistance over time to make sure your paving project lasts as long as possible. Upon negotiation, we can set up a specific maintenance plan that spans a few years to ensure your site is always updated with high-quality paving year after year.
Once your paving project is complete, you might also be interested in our excavation work servicing the Greater Rochester, NY area.