All County Construction provides concrete services for the tri-county area, including Ontario, Williamson, Webster, and Marion. We accept a wide range of projects such as sidewalks, catch basins/gutters, retaining walls, and patios. Including various textures and colors, we provide three different stamped concrete patterns: London Cobble, Grand Ashlar Slate, and Random Flagstone.
Seasonal Considerations for Stamped Concrete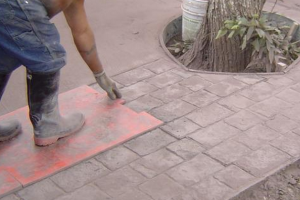 During the summer, we use a retarder to keep the surface of the concrete soft despite high temperatures. We want to postpone the setting time till after we've added the stamped pattern. The softer the concrete, the deeper and more definitely defined the pattern will be.
During the fall, we mix an accelerator into the concrete to speed up the setting time. To prevent the concrete from crumbling, we won't pour during freezing temperatures, especially below 20 degrees Fahrenheit. If the temperature reaches high 30s, we'll use insulated warming blankets to encourage the concrete to set correctly.
Two Types of Concrete
We provide interior mix for indoor concrete projects such as basement floors and garages. Interior mix, which lacks air pockets, has a smooth, dense texture. Exterior mix, which has air pumped through it, is used for outdoor projects like driveways. The air pockets allow water to expand without damaging the concrete construction.
Recycled Concrete
When we accept concrete renovation projects, we first break up the damaged concrete slabs to prepare the site for construction. We then remove the blocks of used concrete so that they can be crushed and recycled for the next project. Recycled concrete works well as the aggregate for replacing virgin aggregate. We try to get as much use out of the concrete as economically possible.
We've had years of experience in concrete services. If you have any questions, call All County-Construction at (315) 589-8661!